Burning Man is a network of people inspired by the values reflected in the Ten Principles and united in the pursuit of a more creative and connected existence in the world. Throughout the year we work to build Black Rock City, home of the largest annual Burning Man gathering, and nurture the distinctive culture emerging from that experience. The hub of this global network is the 501(c)(3) non-profit Burning Man Project, headquartered in San Francisco, California.
Mission Statement
The mission of the Burning Man organization is to facilitate and extend the culture that has issued from the Burning Man event into the larger world.
Vision
The Burning Man organization will bring experiences to people in grand, awe-inspiring and joyful ways that lift the human spirit, address social problems and inspire a sense of culture, community and personal engagement.
Program Areas
Burning Man provides infrastructural tools and frameworks to support local communities in applying the Ten Principles through six interconnected program areas, including Arts, Civic Involvement, Culture, Education, Philosophical Center and Social Enterprise.
Board of Directors as of December 31, 2014
Will Roger
is a co-founder of Burning Man and the Chairman of the Board of Directors, the nonprofit organization that serves as the network node for the worldwide Burning Man movement. Will participated in his first Burning Man event in 1994, and became the founder and first manager of the Black Rock City Department of Public Works, responsible for pre- and post-event construction, logistics, and production of the ephemeral city in Nevada. Will is also deeply involved in efforts related to the conservation of the Black Rock Desert, the largest National Conservation Area in the United States. Will has served as Vice-President of Friends of the Black Rock Desert and as Chairman of the Bureau of Land Management's Sierra Front-North Western Great Basin Resource Advisory Council, and is a member of a subgroup of the BLM's Resource Advisory Council. He frequently represents Burning Man with federal, state, and local officials. He says, "Northern Nevada has and will continue to be positively influenced by Burning Man's culture, art, and community. This has become a year-round effect manifested in public art, Burner-run businesses, and a celebration of artistic intention."
Will Roger is also an accomplished photographer and has had a number of individual photography shows and exhibits. Prior to his involvement with Burning Man, he worked as an Associate Professor and Assistant Director of the Rochester Institute of Technology. He lives with his wife and fellow Burning Man co-founder, Crimson Rose, in Oakland, CA and Gerlach, NV.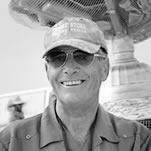 Larry Harvey
is a co-founder of Burning Man and the Chief Philosophical Officer of the Burning Man Project. A thoughtful visionary whose focus is perpetuation of Burning Man culture, Harvey began a modest art project to build and burn an effigy on San Francisco's Baker Beach in 1986. Nearly three decades later, the event he initiated has become a global force on six continents in over fifty countries, and has had a dramatic impact on art, technology, and society. An acute observer of individual and social behavior, Larry also wrote the Ten Principles of Burning Man as a description of the practices that emerged from this vibrant social experiment.
Larry is Burning Man Project's President of the Board of Directors. He also co-founded and chaired the Black Rock Arts Foundation. In 2013 he co-founded the Burning Man Project, and was instrumental in the transition to a 501c3 nonprofit organization which now operates with 70+ year-round staff and a budget of $30+ million. He is currently Board President, and heads the Philosophical Center, which works to preserve and disseminate Burning Man's unique culture. He also writes and produces Burning Man's annual art theme, supervises the design of the iconic Man sculpture and its infrastructure.
Larry is well-known as a thoughtful and provocative writer and public speaker. He has represented Burning Man at renowned institutions of higher learning, museums, conferences, and other cultural crossroads. Among many other engagements, he has spoken at Harvard University, Columbia University, Walker Art Center, The Commonwealth Club of California, The Long Now Foundation, The Economist World in Conference, the Oxford Student Union, London's Southbank Center, and Austin's South by Southwest Conference. In 2014, he was interviewed on television by Charlie Rose, and is frequently quoted in the media as the voice of Burning Man. He lives in San Francisco.
Crimson Rose is a co-founder of Burning Man and the Black Rock Arts Foundation (BRAF), and serves as the Secretary of the Board of Directors. She has focused on the arts and artistic expression for her entire career as an artist and model, maker and muse. Crimson began participating in Burning Man as a fire dancer in 1991, and since then she has overseen all aspects of things that burn in Black Rock City, including the ritual generation of the flame and leading the procession for the lighting of the Man. She developed the organization's Art Department, encompassing everything that supports art from a structural, organizational, financial and creative point of view. Crimson has also been a crucial catalyst for Burning Man art in the world, supporting civic engagement through participatory art. She often speaks about Burning Man art to the press and cultural organizations. A few of her recent public speaking engagements have been at The MURAL International Public Art Festival in Montreal, Canada; she gave a keynote speech for the docents of the Los Angeles County Museum of Modern Art (LACMA), and at ArtPrize in Grand Rapids, MI she was on a panel of judges on a live TV show. A champion of interactive art, Crimson is an advocate for the importance of art in society, "The participants' interaction completes the artwork – and it is our job to protect that relationship." Crimson lives in Gerlach, Nevada and Oakland, California with her husband, Will Roger.
Marian Goodell
is a co-founder of Burning Man and the Chief Engagement Officer (CEO) of the Burning Man Project, responsible for the year-round staff of 70+ employees, and an annual operating budget of $30+million. Marian has been involved with Burning Man since 1995. She has served as Director of Business and Communications, and oversaw the Black Rock City Department of Public Works. She initiated the development of the Burning Man Global Network, which supports more than 250 representatives in 30 countries. Marian is a founding board member of the Black Rock Arts Foundation (BRAF), and Black Rock Solar. She is currently leading the organization's efforts to extend the Burning Man ethos throughout the world. "Burning Man is a way of life; a way of looking at yourself in the context of others which will often provoke a profound understanding of your potential impact on the world."
Marian holds a BA in Creative Writing from Goucher College in Baltimore, MD and an MFA in photography from Academy of Art University in San Francisco. Marian loves cats (like, a lot) and makes her base camp in San Francisco.
A co-founder of Burning Man,
Harley K. Dubois
has over 25 years of project management and city planning experience. Harley first stepped onto the playa in 1991. As the City Manager of Black Rock City for 10 years, Harley oversaw both the Playa Safety Council and Community Services departments, ensuring the citizens of BRC are happy and safe, including ingress, life on playa, and egress. She originated theme camp placement, the Greeters, Playa Info, and Burning Man Information Radio, and has kindled the development of other key Community Service teams. Harley also created and maintains a comprehensive training and self-development program for the Burning Man staff, fostering volunteerism and cross-departmental communication.
Harley was a co-founder of the Black Rock Arts Foundation (BRAF), now Burning Man Arts, where she created and chaired the Grants to Artists committee and acted as the foundation's liaison with the Burning Man Project. She worked closely with the Executive Director and other staff members in conducting day-to-day operations. As Chief Transition Officer Harley was responsible for guiding the transition of Black Rock City LLC, BRAF, and Burners Without Borders into the Burning Man Project. She helped to complete the merging of art related programs into a unified Burning Man Arts program. Harley is passionate about seeing volunteerism fully integrated into all BMP operations, and is continuing to integrate and develop BMP programs and infrastructure to support Burning Man's role as a network node for the community's global expansion. "When you have the opportunity to have a job that is meaningful and has a positive impact, it's really hard to do anything else."

Harley has an extensive background in the visual and performing arts, and has been a fitness director and a San Francisco fire fighter. She lives in San Francisco with her husband, daughter, dog and two cats.
Michael Mikel
is a co-founder of Burning Man and a Vice President of the Board of Directors. He is a historian, and a futurist with an interest in technology and social communities. Michael, who joined Burning Man in 1988 and was instrumental in bringing the event to the Black Rock Desert, is responsible for a number of Burning Man 'firsts.' In 1991 his concept car, the "5:04 PM" was the first Art Car in Black Rock City. In 1992 he edited the first on-site newspaper and founded the Black Rock Rangers. He introduced containerized storage and transport in 1997 and in 2001, visited regional groups across America as an ambassador for Burning Man. In 2008 he managed the development of Burning Man's presence in the virtual world of Second Life.
Prior to Burning Man, Michael was involved with numerous San Francisco social, countercultural and technological institutions. Michael began his career in the 1970s as an electromechanical systems engineer for Fairchild Semiconductor, working on precursors of the personal computer in nascent Silicon Valley. As a content contributor and social catalyst, his work influenced the founders of many media and technology startups. With a keen interest in culture jamming, he was a founding member of the Cacophony Society, a crew member of Survival Research Labs machine performance group and a member of the underground Billboard Liberation Front. 
 
"In order for this planet to survive we need to reach thousands… hundreds of thousands. We are giving our lives to it. It's that important." Michael lives with his wife, Dusty, in San Francisco and Reno, Nevada. He is best known by his playa persona "Danger Ranger".
Terry Gross
is a litigation and civil liberties attorney who also works on large-scale Burning Man art. As founder of Gross, Belsky, Alonso, LLP., he focuses on copyright, trademark, and media law in the digital age. He is also an expert in intellectual property law, and represents artists, authors, and performers in contracts, negotiation and sale of motion picture and television rights. Terry has been deeply involved with Burning Man since 1997, serving as General Counsel to Black Rock City, LLC and as Vice President of the Burning Man Board of Directors. He has been an essential negotiator, advisor and litigator for managing Burning Man's intellectual property. Working as Lightning Clearwater III with Melissa Barron and Gregg Fleischman, he has been the lead artist on three major Burning Man art installations: the Temple of Whollyness (2013,) the Otic Oasis, (2011, 2012, 2014) and the Man Base Pistil, (2012.)
Lightning received his BS in Computer Science from Brown University, and his JD from Boalt Hall, University of California at Berkeley. He lives with his partner, Melissa Barron, and their family in Oakland, CA.
Jennifer Raiser
is an author and manager. She is a regular contributor to the San Francisco Chronicle and Huffington Post, and her online magazine, SFWire.com. She also develops marketing materials and annual reports for professional clients. She also works with her family real estate development organization. For two decades, she was the Founding CEO of Raiser Senior Services, a full-service provider of luxury retirement communities offering health care, hospitality, and long-term assisted living care. She also has experience in management consulting, advertising, and marketing, working with Fortune 500 companies on a wide range of communications projects. She is the author of Burning Man: Art on Fire, (2014) In the Spirit of Napa Valley, (2015) and Designing Retirement Communities for the Future, (1997.)
Jennifer is the Treasurer of Burning Man Project, and has been involved with Burning Man since 2006. "Burning Man is such a powerful force for social change – it gives people permission to be the person they want to be. It's the culture of the future." On playa, she volunteers as a Black Rock Ranger and for other departments, hosts a theme camp, and runs The Kazbus art car.
Jennifer is a longtime nonprofit volunteer, having served on the Boards of the Silicon Valley Community Foundation, Peninsula Community Foundation, Junior Statesmen Foundation, Community Gatepath, and Coyote Point Museum. She received a BA in English Literature and an MBA, both from Harvard University, and lives with her family in San Francisco.
Chip Conley
is an entrepreneur, business leader, and author. He is currently head of Global Hospitality and Strategy for Airbnb, and Founder of Fest300, a website dedicated to festival culture. Previously, he was the founder and CEO of Joie de Vivre Hotels, a boutique hotel company known for transformational leadership practices and innovative design. A committed and creative philanthropist, Chip is the founder of San Francisco's annual Celebrity Pool Toss to benefit inner city youth programs. He is the author of the New York Times bestseller, EMOTIONAL EQUATIONS: Simple Truths for Creating Happiness + Success, as well as PEAK: How Great Companies Get their Mojo from Maslow, The Rebel Rules: Daring to be Yourself in Business, and Marketing that Matters: 10 Practices to Profit Your Business and Change the World.
Chip has been attending Burning Man since 2000. He has been involved with the Black Rock Arts Foundation (BRAF) and has presented the keynote speech at the Burning Man Global Leadership Conference, a four day event for Burning Man Regional Network organizers and community leaders. He says, "My favorite Principle is Immediacy as that one usually brings a bounty of serendipity." Chip holds a BA and an MBA from Stanford University. When he is not travelling to his favorite festivals, Chip works around the world and lives in San Francisco.
Christopher Bently
moved to San Francisco in 1984 where he immediately developed a deep love for the city, its architecture, and its people. Today he is an avid environmentalist, musician and businessman with an affinity for foreign languages and travel. In 2001, he founded Bently Holdings, an environmentally conscious, investment and holding company focused on architecturally significant and historic buildings as well as preserving open land. Working to maintain the harmonic balance between nature and civilization also prompted the endeavor of Bently Biofuels, which produces biodiesel processed from waste vegetable oil for consumer and agricultural use.
It was his first voyage to Black Rock City that revolutionized his life. The Playa is where he learned of a community based solely on gifting, art, music, self-reliance, and love. This profound experience prompted a major course correction in his life and made him the awarded philanthropist he is today. He advises and sits on the board of several organizations, both for-profit and nonprofit, that are associated with preserving the environment or the arts. Chris is a very proud member of the communities of San Francisco and Black Rock City, and is always working to improve, maintain and merge the spirit and integrity of both.
David Walker
is the Executive Director and CEO of the Nevada Museum of Art in Reno. He launched the museum's Center for Art + Environment, an internationally recognized research initiative, has organized numerous highly acclaimed exhibitions and publications, and has overseen the museum's institutional expansion. He previously served as Dean of Public Programs at Art Center College of Design in Pasadena, where he led program and facilities growth. In Los Angeles he founded Design High School, a public charter school with a design-based curriculum. Prior to that, he served as director and founding partner of the Walker and Walker Art Gallery in Santa Monica, and was an associate with the investment banking firm McBain, Rose Partners. He has written numerous articles and was founding publisher of Element, the arts quarterly. An occasional rock musician, David has been instrumental in welcoming Burning Man art to the public realm. In 2007, David orchestrated the acquisition of Guardian of Eden, a major sculpture created by Kate Raudenbush for the Nevada Museum of Art's permanent collection. That project compelled his first visit to the playa in 2008, and he has attended every year since, often as a guide for other art enthusiasts.
David received his BA from Humboldt State University, did his graduate work at the Otis Art Institute of the Parsons School of Design, and the Center for Creative Leadership. He lives with his wife in Reno.
Jim Tananbaum is founder and CEO of Foresite Capital.  He has been a Burner since 2008. For the last 20 years, Jim has been an entrepreneur, a company builder, and a change agent in healthcare. Foresite Capital currently has significant investment interests in cancer treatments, cancer diagnostics, Type II Diabetes treatments, obesity and health care delivery.  Jim is an avid electronic and live music fan, and contemporary art patron.
Kay Morrison
is a pivotal volunteer leader throughout the Burning Man community. In addition to serving on the board, she is a member of the Meta-Regional Committee and a Burning Man Regional Contact for Seattle. For many years Kay led Ignition Northwest, the Seattle Regional group, and its weeklong event, Critical Northwest. She is also a lead artist for the Iron Monkeys, a Seattle-based blacksmithing collective which produces large-scale art for Black Rock City, including "Guardian of Dawn"(2013), "Agora of Light"(2014), and "Well of Darkness"(2015).
Kay first ventured to the Black Rock Desert in 2000, and ran the Space Virgins camp for six years. On playa, she also works with the Fire Conclave to manage the 1,400 performers who light up the Great Circle before the Man Burns. "I love that this community encourages people to try anything they can put their mind to. In Burning Man culture, you can be whatever and whomever you want to be if you set your mind to it and do the work."
A lifelong community activist, Kay has worked with numerous nonprofit organizations, including NPower information technology services, Capitol Hill Arts Center, and Shunpike fiscal sponsorship organization. She lives in Seattle, Washington.
Leo Villareal
is an internationally renowned artist and sculptor working with space, time, and light. He has created many large scale, site-specific installations including San Francisco's "The Bay Lights"(2013), and "Buckyball" in New York's Madison Square Park. His work is in the permanent collection of major museums, including the National Gallery of Art in Washington DC, the Museum of Modern Art, New York, and was the subject of a major career retrospective at the San Jose Museum of Art. Villareal has been commissioned by federal and state agencies to create installations in public spaces, including a New York City subway station, and a courthouse in El Paso, Texas. He began his artistic career at Interval Research, a Palo Alto think tank. Villareal has attended each year of the Burning Man event in Black Rock City since 1994, and is a founder of the Disorient theme camp. "My first work of electronic art was developed to find my way back to camp," he says, "And Burning Man has continued to be a major influence on my work. I always discover some new way of seeing once I am there."
Leo received his BA in Installation Sculpture from Yale University, and his Masters at the Interactive Telecommunications Program of New York University. Villareal lives in New York City and Marfa, Texas with his wife, Yvonne Force, and their two children, Cuatro and Lux.
Matt Goldberg
is QVC's Senior Vice President of Global Market Development, responsible for driving global expansion for the $9 billion multichannel retail organization. In 2015, his team led the "green field" build of QVC France, and the $2.4 billion acquisition of zulily. He has more than 20 years' experience in global business development, new market entry, strategy and operations. Previously, Matt served in a number of leadership positions in media and technology, most recently as CEO of Lonely Planet, where he focused on the transformation of the business, growing digital revenue and leading geographic expansion into China, India, Brazil, and Russia. Matt began his career in public service, working as Director of Strategic Planning for the Illinois Housing Development Authority, as an Assistant to Governor Jim Edgar of Illinois, and as Campaign Officer for the Liberal Party of Australia.
Matt first discovered Burning Man in 2003. He credits his annual experience in Black Rock City with rekindling his own creative impulse, entrepreneurial drive, and deep personal connections. "Burning Man is a blank canvas, with the power to inspire so many to unleash creativity, consider possibility, and tap generosity. It has the potential to serve as a catalyst for positive change in the world." Matt is a foodie who loves to bring the gift of culinary experience to the playa, once collaborating with one of LA's top chefs to provide a seven-course dinner to several hundred first-come, first-served participants.
Matt earned his BA in English Literature from Cornell University, his Masters degree in International Relations from the University of Melbourne, Australia, and his MBA from Stanford Graduate School of Business. He currently serves as an advisor and board member for a number of nonprofits, including Lumina Foundation (Indianapolis, IN) Cornell University Council (Ithaca, NY), The Conversation Media Group (Australia and US,) and The University of Melbourne USA Foundation (New York, NY). Matt lives with his wife and children in Short Hills, NY.
Mercedes Martinez
is a teacher, performer, film producer, and full-time mother of three vibrant young children. A longtime Burner since 2001, she met and married her husband, film writer/director Chris Weitz, on the playa. She has devoted significant time to endeavors in Black Rock City, including founding the Ashram Galactica theme camp, and writing and editing the Black Rocker magazine. "I consider my biggest Burner accomplishment to be bringing my kids to the event and actually leaving with them – leaving no trace!"
A committed hands-on community leader, Mercedes is also active in many nonprofit organizations, and serves on the Boards of Homeboy Industries and Seven Arrows Elementary School. Mercedes received her BA in Film, Theater and Television from UCLA.
Michael Farrah
has worked for the past two decades in government and politics at the municipal, state, and national levels. Farrah has been an advisor to public officials including San Francisco Mayors Edwin Lee, Gavin Newsom, and Frank Jordan, San Francisco Supervisors Michela Alioto-Pier, Bill Maher, Angela Alioto, Annemarie Conroy, and Barbra Kaufman, and US Congressman Tom Lantos. He continues to advise major local and national candidates and elected officials. In addition to serving on the Board of Burning Man, he has served on the Board of the Arab Culture and Community Center in San Francisco. His first documentary film, which explores gentrification and economic inequality in New York City, is called Class Divide and was released in December, 2015.
Mike first came to the Black Rock Desert in 2004, and was immediately captivated by the immersive experience of art and community. He says Burning Man fundamentally changed the way he viewed government, its responsibility to the arts, and the way community can be built. "The transformational power of Burning Man is in its ability to make everyday life seem different after you have been to the playa. The goal of the Burning Man Project is to take the principles of the playa away from the playa." Mike Farrah earned his BA in Governmental Studies at St. Marys College of California. He currently lives in New York City with his wife, Maya Draysin, and his two young sons.
Rae Richman is Head of Global Citizenship for Airbnb, where she is responsible for activating the company's assets for social good. She has more than fifteen years of experience providing strategic consulting to organizations of all sizes, including family and corporate foundations, leading nonprofits, and a wide range of Fortune 400 global companies.  Previously, she was the Vice President of the Bay Area office of Rockefeller Philanthropy Advisors and Senior Manager of Consulting Services at Business for Social Responsibility.  She has also served as a consultant and meeting facilitator to nonprofits and values-based organizations to ensure maximum goal achievement, productivity and creativity. She began her career in marketing and production management with entertainment, multimedia, and tech companies.
 
Rae has attended Burning Man every year since 1996. From 2002 – 2006 she facilitated the board and senior staff retreats of the organization and then served as a Board Member and Officer of the Black Rock Arts Foundation from 2006-2012.  She became a founding board Member of the Burning Man Project in 2012.  Rae has worked in numerous capacities on playa, including with the Media team as a "Larry Rustler" and as a founding member of the External Relations team. She has also been involved with numerous art projects, including Otic Oasis and The Temple of Whollyness. "I had a transformative experience 20 years ago when I first came to the playa and knew that I needed to have my life and work be more aligned with my values.  I came home, quit my job, and started on my career path in corporate social responsibility.  This shift, and the network of authentic connections I've made in the Burning Man community, have led to the most enriching personal and professional experiences in my life."
 
Rae earned her BA from the University of Virginia, and her MBA from the University of California, Berkeley-Columbia Executive MBA Program. She lives in San Francisco with her husband, Tomas McCabe.